A Lasting Peace – Making Sense Of The Middle East Conflict
Arm yourself today with a clear understanding of the one of the devil's most intense battles
It's one of the most controversial topics of world politics. And one of the most important. The Middle East conflict: So complicated, who can understand it all?
Jewish Voice Ministries International is pleased to announce the latest book by Rabbi Jonathan Bernis: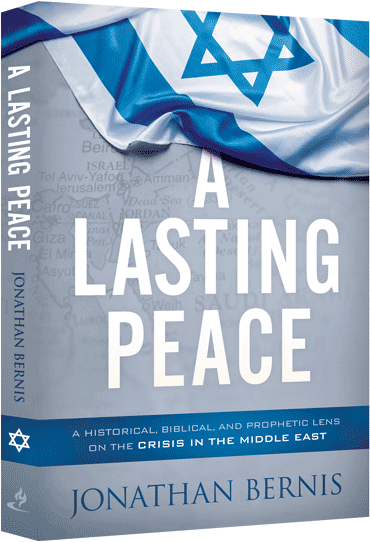 Finally, there's an easy-to-understand overview that sorts out the complexities of issues in the Middle East. A Lasting Peace offers you a simple overview of the history, key players and why the matter is relevant to you, now more than ever.
A Lasting Peace
A Lasting Peace will give you a clear understanding of the Middle East conflict as it outlines:
The spiritual roots of the strife
The history surrounding the conflict, from ancient days to current events
The truth about the Palestinian refugee situation
Biases behind Israel's struggle with the United Nations
The impact of U.S. recognition of Jerusalem as Israel's capital
Why past treatment of the Jewish people is pertinent to you today
A clear defense for why the Jewish people have a divine right to the Land known today as Israel
The book will also help you better understand:
The Arab war against Christians
The nation-by-nation involvement of Arab countries and how each affects Israel
The Arab claim that, without the Jewish people, there would be peace in the Middle East
Russia's recent intrusion into the conflict
Various terrorist groups targeting Israel, including Hezbollah, Hamas, Muslim Brotherhood, and ISIS
How you can pray and prepare for what may be ahead
The Middle East is a hotbed of hostility with Israel in the crosshairs. And there is a growing but uninformed animosity toward Israel that is spreading throughout the world today. Grasping the full picture of the Middle East conflict is more important now than ever. Get started right away with our gift to you: a free chapter from Jonathan's new book, A Lasting Peace.
Click here to read your free chapter today!
We wrestle not against flesh and blood, but principalities and powers. Arm yourself today with a clear understanding of the one of the devil's most intense battles.
Do you support GOD TV?
For just $10 per month you can bring the gospel to 1,000 homes. Join us as media missionaries!
GIVE NOW